19 MENU ITEMS THAT MAKE MOUTHS WATER



From caviar to the King Porker, from sweet to savory, fresh from the sea and from the farm, the following delectables have central Iowans salivating. 
By Jeff Pitts
The central Iowa food landscape boasts numerous excellent eateries. But, sometimes, detailing which restaurants you should try and why involves too much detail and nuance to do the job properly. As such, CITYVIEW decided to try something simpler and set out to find 20 (or so) menu items that make mouths water. From caviar to something called the "King Porker," from sweet to savory, from something fresh from the sea to fresh from the farm, the following delectables have central Iowans salivating. Enjoy.
1. Lua Reserve Caviar 
Lua Brewing
1525 High St., Des Moines
www.luabeer.com
Menu offerings include Bacon & Kale Toast sandwiches, Smush Burgers, and bowls of Chilled Avocado And Whey, but Lua's hand-selected and harvested Lua Reserve Caviar — served with fuilles de brick, egg yolk, creme fraiche, cucumber and chive — has central Iowans sprinting for this Sherman Hill hotspot.
2. Chicken & Waffle
The Chicken
Along Great Western Trail, 4221 S. Orilla Road, West Des Moines
www.thechickenorilla.com
Nashville hot boneless chicken strips on top of a large Belgian waffle with cream cheese sauce and maple syrup. That's the reward for stopping along the Great Western bike trail in what was once the town of Orilla (now West Des Moines).
3. Blueberry Cheesecake cupcake
Molly's Cupcakes
215 E. Third St., Des Moines
www.mollysdsm.com
This East Village sweet spot offers an array of tantalizing made-from-scratch options to add to this list: German chocolate, chocolate mousse, chocolate raspberry, cake batter, coconut dulce de leche and crème brülèe. But the Blueberry Cheesecake option at Molly's takes the cupcake. Vanilla cake baked with fresh blueberries and infused with classic cheesecake filling, graham cracker pieces, glazed blueberries. "UNCLE!" Where is the sign-up sheet?
4. Library Nachos
University Library Café 
3506 University Ave., Des Moines
www.thelibrarydm.com
What's Dogtown's not-so-well-kept secret? Drake students might say they are at the "library," but if they do, it's likely they're noshing the magnificent nachos at University Library Café. Library Nachos feature fresh flour tortillas topped with pinto beans, shredded cheddar cheese, Monterey cheese sauce, salsa, mild banana pepper rings and sour cream. Add optional cheeseburger, chicken, roast beef, bacon or corned beef.
5. Cheeseburger, fries
B-Bop's 
Multiple locations
www.b-bops.com
Take the winner in CITYVIEW's Best Of Des Moines poll in the category of Best Local French Fries — B-Bop's — and you add in the top vote getter for having the city's Best Local Burgers — also B-Bop's — and the arithmetic is easy. B-Bop's is a wonderful on-the-go option.
"Grab a No. 1 combo consisting of a quarter-pound cheeseburger, fries and a large Diet Mountain Dew," says a certain unnamed source. "So good."
TIP:
Savvy veterans of B-Bop's say to do yourself a favor and bank a chocolate shake for the road. Enjoy!
6. King Porker
Des Moines Pizza Company  
612 Locust St., Des Moines
www.demopizzaco.com
Offering traditional favorites with a twist, unique pizzas sure to surprise you, and some unconventional specialty slices, the menu at Des Moines Pizza Company (DeMo Pizza Co.) is loaded with intriguing options, including the King Porker pizza — with pulled pork, cowboy bacon, BBQ sauce, poblano pepper and topped with granny smith apple coleslaw — that has central Iowans' tastebuds twitching.
7. The WertzBURGER Warrior
Gilroy's Kitchen
1238 Eighth St., West Des Moines
www.gilroyskitchen.com
What do you get when you combine 14 ounces of beef awesomeness loaded with bacon, jalapeños, garlic aioli and cheese? You get The WertzBURGER Warrior, a true mouthful in more ways than one.
8. Buttermilk Fried Chicken and Whiskey Pecan Pie
Bubba - Southern Comforts
200 Tenth St., Des Moines
www.bubbadsm.com
Buttermilk fried chicken with certified organic chicken, brined, breaded, seasoned and fried to order. Served with bread-and-butter pickles, roasted garlic and buttermilk mashed potatoes and a choice of two sides. And if you know what's best for you, polish it off with... whiskey pecan pie? Yep. Bubba brings a bit of "Dixie" to Des Moines with vanilla ice cream and caramel sauce.
9. The Sunday Driver
The Whiskey House Grill   
2510 S.W. White Birch Drive, Suite 8, Ankeny
www.thewhiskeyhouse.net
One egg, plus a one-third-pound burger patty and bacon, Prairie Breeze white cheddar, sun-dried tomato spread, caramelized onions, on a brioche bun. You had us at "egg." The Sunday Driver is worth a look.
10. Truffled Mac & Cheese
Americana
1312 Locust St., Des Moines
www.americanadsm.com
Truffled Mac & Cheese? When this kind of opportunity knocks, you gotta get the concoction of goat cheese cream sauce, truffle oil, toasted bread crumbs, fresh herbs served with either chicken, shrimp or salmon.
TIP:
If you like breakfast, and if you enjoy a good lunch, Americana serves the city's best brunch, according to CITYVIEW readers in its annual readers' choice polling. The Saturday-Sunday brunch offerings include a bottomless mimosa and bloody-mary bar.
11. Panang Curry
Cool Basil
1250 86th St., Clive 
www.coolbasilcliveiowa.com
"Unscientifically speaking and unofficially, the Panang Curry — a smooth curry cooked with coconut milk and a creamy peanut sauce — might be the single best thing I've ever tasted," said a customer in Cool Basil's waiting area. That sounds worth a try. Good food, stellar service, plus a thick menu stuffed with sushi, stir-fried dishes, noodles, Thai and more.
12. Lil Elvis
Dirt Burger
407 E. Fifth St., Des Moines
www.dirtburger.us
What is the "Lil Elvis" ice cream treat at Dirt Burger? Can it really be an oat-milk-based soft-serve shake with banana, peanut butter, jelly and vanilla ice cream? Say, "Y-E-S!"
NOTE:
All ingredients at Dirt Burger are 100% plant based.
13. Large Dutch Chocolate Letter
Chocolaterie Stam
2814 Ingersoll Ave., Des Moines
www.stamchocolate.com
Chocolate, chocolate, chocolate. Milk chocolate, white chocolate, mocha chocolate. You can never go wrong with chocolate. If chocolate equals happiness, then Chocolaterie Stam is somewhere very near paradise, and the large Dutch chocolate letters, a popular tradition in Holland, are hand-crafted with either dark or milk — your choice — and custom-made. These yummy treats weigh more than 6 ounces and are approximately 6 inches tall. "A little bit of sweetness can drown out a whole lot of bitterness," said a wise soul.
14. Chicken Spiedini
The Latin King Restaurant
2200 Hubbell Ave., Des Moines
www.tursislatinking.com
The Chicken Spiedini  has been a best seller for nearly 30 years at The Latin King Restaurant. Boneless breasts of marinated chicken skewered, rolled in Italian breadcrumbs, charbroiled and then served with  Amogio sauce.
TIP:
Call ahead if you're coming for dinner. After seven decades in central Iowa, this east-side mainstay continues to draw local foodies in droves.
15. Oolong (Wulong) Teas
Gong Fu Tea
414 E. Sixth St., Des Moines
www.gongfu-tea.com
"Oolong (Wulong) teas are semi-oxidized teas that lie in between green teas and black teas on the tea spectrum. They are processed in a manner similar to black teas, although the leaves are not allowed to oxidize as fully as their black counterparts. The liquor produced when steeping an oolong is typically a light green color, although a reddish tone is also possible from some types within this varietal — especially those that are more fully oxidized. Oolongs tend to have a wheat-like aroma that may be tempered with floral and/or woody attributes inherent within the ultimate expression of the plant and its environment. They are always smooth, with very little astringency on the finish — yet they have good strength of flavor and pair well with foods.
The very best examples of this renowned varietal come from Fujian Province, China and Taiwan. Oolongs tend to be the tea type that many tea enthusiasts gravitate to in time — the complexity of the multiple flavor profiles offered up in successive steepings of high quality leaf provide a pleasant challenge to the connoisseur's palate."
That's the type of tea expertise available at Gong Fu Tea in downtown Des Moines' East Village.
16. Chicken Jalapeno
Skip's
4000 Fleur Drive, Des Moines
www.skipsdesmoines.com
Chicken Jalapeno with chicken breast, jalapeno cream sauce, linguini pasta. Classic.
17. Pan Roasted Sockeye Salmon
R+C's Diner
6587 University Ave., Windsor Heights
R+C's Diner is open in Windsor Heights. Local restaurateurs Joe Tripp of Harbinger and Simon Goheen of Simon's have teamed up, and the menu is loaded. One especially enticing item: the Pan Roasted Sockeye Salmon served with potato and dill kreplach, lemon caper butter and roasted asparagus.
TIP:
Send a little love — a round of drinks — to the hard working folks in the back of the house for $7.
18. Prairie Fire cinnamon whiskey
Iowa Distilling Company
4349 Cumming Ave., Cumming
www.iowadistilling.com
"Bottoms up!" The hardcore heat served up via Prairie Fire cinnamon whiskey at Iowa Distilling Company is one of many homegrown and tasty concoctions that are putting Cumming, Iowa, on the map.
19. Tacos
Kung Fu Tap & Taco...
210 Indianola Road, Des Moines
www.facebook.com/kungfutapandtaco
The tacos are served until 1:30 a.m. every night of the week. But don't ask for a menu. There is only one item available: Beef tacos with cheese and lettuce. That's the entire list. Simple. Easy. No fuss. No muss. But oh-so-tasty. And "Every Night is Bike Night," and Hamm's is on tap.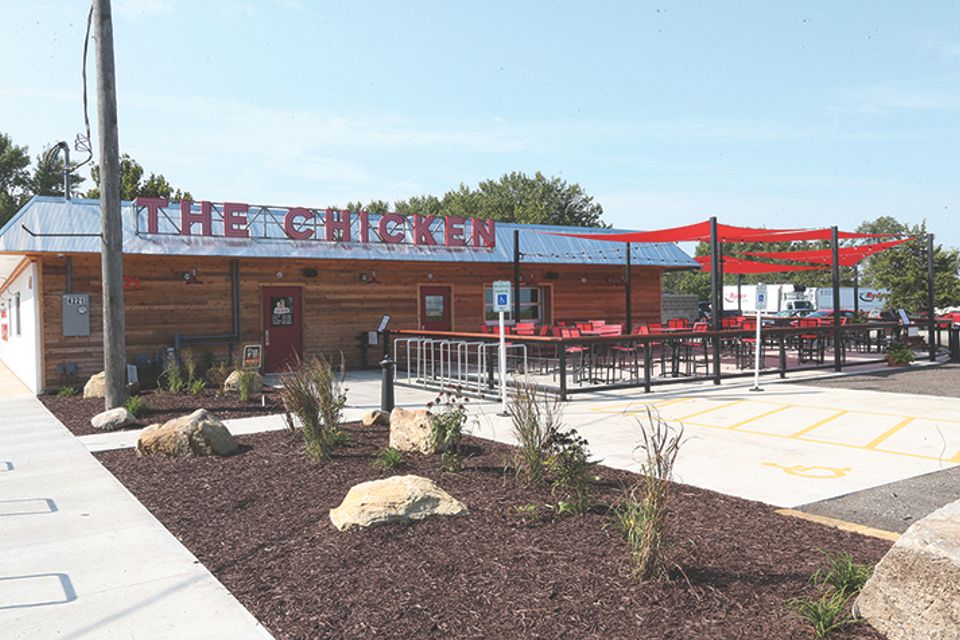 The Chicken serves a tasty Chicken & Waffle along the Great Western Trail in West Des Moines (formerly the town of Orilla). Photo submitted