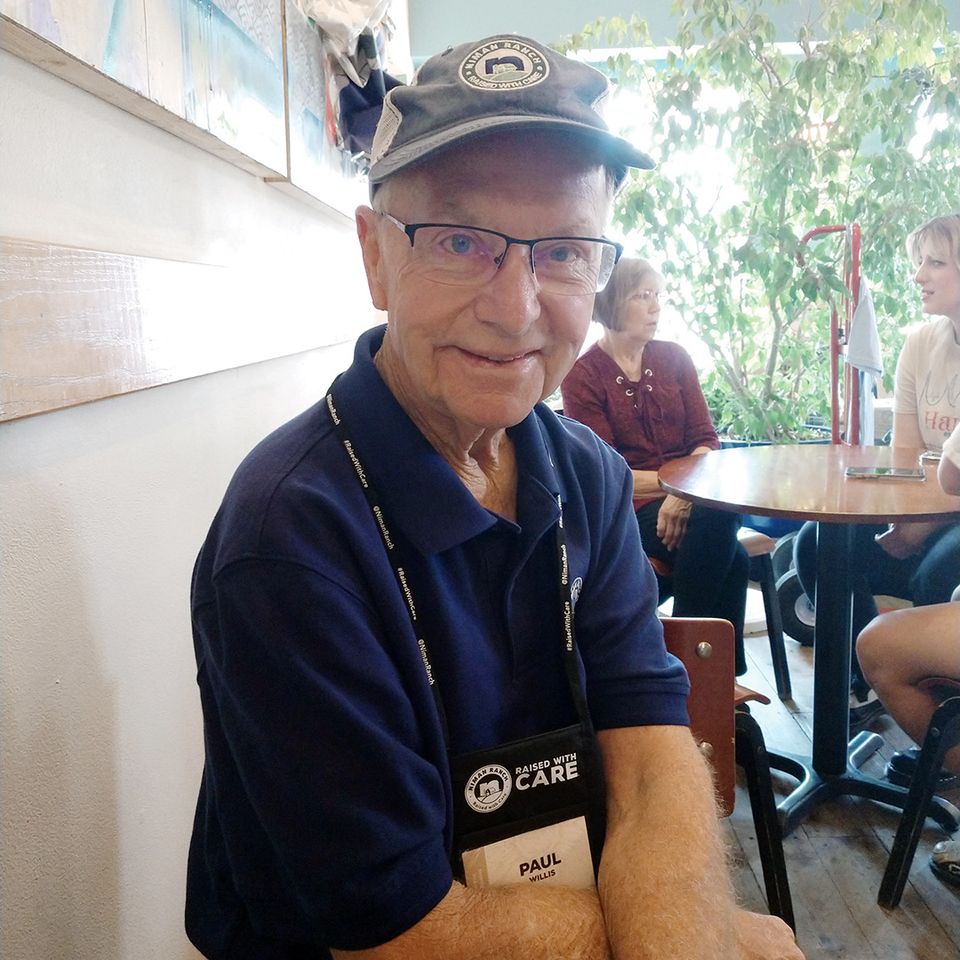 Niman Pork chief Paul Willis led the back to the future movement to humanely raised, better tasting pork.
THE BOOMERANG EFFECT



What goes away, comes back in the food world.
By Jim Duncan

"The inevitable never happens. It is the unexpected always."
That quote is usually ascribed to novelist Dame Margaret Drabble, but it is associated with several of history's great economic thinkers. Whether applied to romantic expectations for happiness or to predicting economic futures, the point is that overconfidence is fool hearty. History's most "indestructible" investments — from the "Eternal City" of the Caesars to the Maginot Line of post WWI France — are often upset in the blink of an eye.
It is the unexpected always. The Americas were accidentally discovered by navigators seeking a short cut to the spices of the East Indies. The brutal leaders of the French Revolution never delivered "fratenite, egalite and liberte" but did bring the world its first restaurants. After Robespierre and his Reign of Terror killed all the nobles, their unemployed cooks needed work.
The chocolate brownie was discovered when a 19th century cook, probably drunk, at the Palmer House in Chicago forgot to add yeast to his chocolate cake. Similarly, the great Italian wine Amarone was discovered when winemakers bungled a vintage of Reciota. The grapes did not achieve the desired over-ripening and, hence, could not fully ferment. That meant that their sugars all turned to alcohol and the Reciota had none of its expected sweetness. A good, sweet wine became a great, dry wine.
The sandwich was invented because the Earl of Sandwich had so many problems, both with politics and with his multiple wives and loves, that he had no time to eat. So he instructed his cook to put salad, entrée and sauce between two slices of bread.
James Michener's "Chesapeake" tells a centuries-long tale of geese flying over the bay. When settlements replaced wild lands nearby, the birds left their hunting path for lack of food. Then after WWII, tomato harvesting switched from efficient human pickers to machines that left a large percentage of the harvest to rot in the fields. The geese returned to feast.
John Steinbeck's "Cannery Row" tells the story of Monterrey Bay and how it thrived when WWI created huge demand for canned sardines. Then suddenly after WWII, oceanic changes and overfishing chased sardines from the local waters, and the industry became a museum for tourists. Today, the sardine is back to full population and Monterrey has the world's most influential aquarium — because it tracks fish populations and alerts people about endangered species.
Similarly, the world's greatest anchovies swam for centuries undisturbed in the Cantabrian Sea. Then a shipwreck of Sicilians, who had been salting lesser anchovies since Phoenician times, brought the knowledge to the Basque Country, and generations of Sicilians emigrated to the Euskadi to troll little fishes.
Such accidents of food history are legion. The founder of the Italian supermarkets Eataly, Oscar Farinetti, has collected tales of accidental food inventions in his book "Serendipity." Among the happy accidents we love to eat today: yogurt, balsamic vinegar, ice wine, popcorn, Gorgonzola, Champagne, rum and tofu. 
Those of us who invest our lives in the food business know that everything is cyclical. If we live long enough, most of that which goes away comes back. When Babe's closed in 1991, the word-of-mouth zeitgeist was that this was the end of times.
Downtown dining was supposed to be a thing of the past. Why would anyone go there for dinner, or shopping, when malls provided free parking and compact collections of shopping and dining options? For a decade in the early life of Merle Hay Mall, Bishops Cafeteria was the busiest restaurant in the state. Today, that mall's food court is disintegrating after rents were raised and traffic decreased. Chrissy Johnson has moved her Joppa Experience to River Bend, where there were no restaurants for a recent decade, but now La Familia and Pho 515 thrive.
Downtown dining was not dead for long. By the end of the 1990s, Bruce Gerleman had opened Splash and begun the rebirth of Court Avenue District as a dining and entertainment center. By 2003, Centro opened in the Western Gateway with George Formaro as executive chef. Owners had interviewed eight restaurateurs, and Formaro was the only one who believed that the Temple venue could draw people downtown for dinner, not just lunch.

The death and rebirth of brew pubs
In the late 1970s, numerous brew pubs opened nationally, and almost all failed in a few years. The wisdom of the moment was that customers would try a craft beer but then go back to the comfort of Bud or Miller's lower prices. Brew pubs were written off as a terrible idea.
Then Scott Carlson opened Court Avenue Brewing Company (CABCO) in 1997 and began a state-wide craft beer craze that led to multiple festivals, 115 Iowa breweries, and the magic of Full Court Press, a group of local partners who have created Hessen Haus, Red Monk, Royal Mile, Fong's Pizza, Mullets, High Life Lounge, Buzzard Billy's, Iowa Taproom, Ken's, Rita's Cantina, Lucky Horse, and The Chicken, all featuring Iowa craft beers.
Lua, Big Grove, Confluence, Firetrucker, 515, Twisted Vine, Peace Tree, Back Road, Reclaimed Rails, Exile, Brightside Ale Works, Barntown, West Hill, Uptown Garage and Fenders have all opened taprooms in metro Des Moines since CABCO. If you want your craft beer served ironically, 300 MLK occupies the Old Tavern Brewing Company. That Des Moines brewery closed when Prohibition raised its judgmental eyebrows. Now it hosts 300 Craft & Rooftop, plus Fuzzy's Tacos, Blaze Pizza, Jimmy John's and The Poke Company.

The new cafeterias
Some things that seem to go away actually just morph. The cafeterias of the malls' great era were replaced by all-you-can-eat buffets. You pay a fixed price rather than ordering just what you want, but you can still eyeball everything you choose to put on your plate. The only things missing are the trays.
Some cafeterias in Des Moines, including Bishops and Old World Country, tried to transform into "all you can eat" places, but that didn't track. The successful ones are usually either South Asian- or Chinese-themed. Lzaza, which is Pakistani, India Star, Chowrastha and the Nepalese Kathmandu operate them for lunch only. Kathmandu's is weekends only; the others are weekdays only.
Chinese-themed buffets are served at International Buffet, New China Buffet & Grill, Hibachi Grill & Supreme Buffet, and China Buffet in the metro. They are open for lunch and dinner every day. Some say that Panda and Hy Vee's Chinese services are cafeterias because all the dishes are usually visible behind glass.
Though COVID panic decimated their numbers, salad bars are cafeterias with limitations. The ones at Terra Grill, Chicago Speakeasy, Arugula & Rye, Jason's Deli, Ruby Tuesday, Chicken Ranch, John & Nick's Steaks and Prime Rib, and Whole Foods have many fans.
Sometimes populations recreate markets for old-time revivals. Pork farming in Iowa is a great example of that. For the most part, before WWII, most pigs were raised outdoors with shelter from bad weather. That is more humane but less efficient. When pork became industrial, pigs lived lives of horror and torture in confinements so packed that the animals often eat each other's tails. Confinements also produce filth that runs into our waterways and fouls the air for miles.
A demand arose for old fashioned pork, with more fat and less stress on the animal. Iowa-based Niman Pork and Berkwood Farms filled the need. Heritage breeds like Duroc and Berkshire are returning to old population numbers.

Slow food and fine dining return
Also after WWII, fast food exploded, and fine dining was deemed doomed. It took decades, but there was finally resistance. Slow food is a thing now. Seed Savers Exchange in Winneshiek County is one of that movement's poster children. And the fine art of the three-hour dinner is back. Many local restaurants present special dinners with just one seating. They feature multiple courses and usually offer wine or beer pairings with each course. Centro uses the former South Union Bread space to accommodate these dinners. Django created the Reinhardt Room for theirs.
This year brings us two of the most eagerly anticipated fine dining restaurants in metro history. When the developers of the Jordan Creek Town Center were building that mall, they offered many incentives to Ruth's Chris Steak House. The Texas-based luxury chain deemed West Des Moines too small for its brand.
In August, Ruth's Chris Steakhouse opened its largest-ever store on Jordan Creek Parkway. That place has a whopping 15,000 square feet over two floors and seats 450. Heated patios and tablecloth dining is back, and steaks cost up to $150, a la carte.
Ruth Fertel opened the first Ruth's Chris with a $4,000 loan. The West Des Moines store has scores of chandeliers that cost $3,000 to $4,000 each, plus one that costs $30,000.

Oak Park
In mid-October, Oak Park will open on Ingersoll Avenue. That gem has its own giant garden. It will grow, harvest, can and pickle its bounty mostly from Seeds Savers starters. The restaurant's stunning Prairie architecture, by Brad Hartman of Hartman/Trapp, features more natural light than any restaurant in town, unless you consider the coffee bar in Kum & Go headquarters a restaurant. About 80% of the seating will be in its solarium, a three-sided polygon facing south, east and west and surrounding its bar room. That bar has a zinc-covered top.
Among the features that harken back to yesteryear is a chef's table off the kitchen that will seat six. It has an oval shape so that no guest has his back to the kitchen. Like all the kitchen, it has wonderful windows. Yes, windows in the kitchen, for the morale of the staff who work there.
Owner Kathy Fehrman explains, "Most restaurants consider only the customer when they design. We wanted to also be mindful of the employee. We have employee lockers, an employee restroom and an enclosed area out back where they can smoke. Also, that hides smokers and dumpsters from the neighborhood and parking lot."
General Manager Damon Murphy came from 801 Steak & Chop House. He says he's never seen such attention paid to detail.
"The tiled kitchen is state of the art. We went to Barcelona to find our alternative oven/grills. They can burn charcoal or hard wood and have adjustable heights. The French-style flat tops were custom built in Virginia. The pastry kitchen is a room to itself."
"When (pastry chef) Jess (Dunn) first saw it, she threw herself on top and hugged everything," added Fehrman.
The bathrooms are all unisexual private rooms with moss green walls. Care was also paid to the suppliers. Basement stairs contain a slide so that deliveries can be made without bumping down each step.
"The best decision we made in planning was to assemble the entire crew seven months before opening," Fehrman said.
They have been working on the menu all that time in their downtown test kitchen. Seven staff members went to sommelier certification school. They will train others to recommend 2,500 different wines, with a 9,000-bottle wine cellar.
The menu will have about 30 items, according to Murphy, plus a five-course tasting menu. Fehrman took the staff to some out-of-town restaurants she admires, like Alinea in Chicago and V Mertz in Omaha. She smiled when she mentioned that the kitchens in those places are tiny compared to Oak Park.